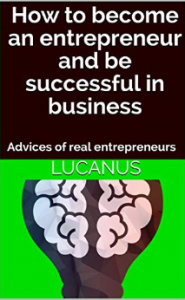 "About How to become an entrepreneur and be successful in business: Advices of real entrepreneurs by Lucanus:
This great book contains amazing collection of tips on how to become an entrepreneur and be successful in business.
This book is perfect for people who want to open their first business or have their own business for a long time and just need some advice from the best ones.
Book contains three great parts:
Part one – General advice (General principles that will bring you motivations, inspirations, and show you what the real enterpreneur should be like.)
Part two – Quick advice for entrepreneurs ( Contains almost 50 the most selected tips which will show you in quick and easy way how succeed in what you do.)
Part three – Most important advices from few famous entrepreneurs
In part three you will find top rules of Donald Trump, Richard Branson, Elon Musk, Steve Jobs, Tony Robbins, Walt Disney, Phil Knight and others.
If you want to find out what real entrepreneurship looks like and at the same time motivate yourself and inspire you to act through wonderful quotes, then this book is certainly for you.
Don't hesitate and order this book now!
Targeted Age Group: 14-70
Written by: Author Lucanus
Buy the ebook:
Buy the Book On Amazon

Author Bio:
Hello 🙂
my nickname is Lucanus.
For several years I have been interested in the subject of personal development, which I am deeply exploring. I attend courses and I absorb a lot of books on this subject. I try to keep up to date with all information and news.
My books are usually a collection of valuable advice and tips scattered throughout many other books. In my books, information is given directly in an accessible way.
If you value your time and you care about proven and safe knowledge, then I invite you to read my publications.
Certainly you will find there a lot of valuable advice and tips that will help you become a better person, achieve your goals and achieve life success.
This site contains affiliate links to products. We may receive a commission for purchases made through these links.