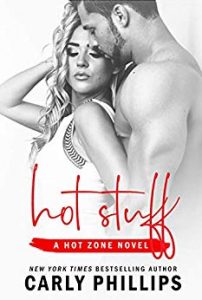 "About Hot Stuff by Carly Phillips:
FREE for a limited Time!!!
He's about to find out … She's not just one of the guys.
Annabelle Jordan and her two sisters were orphans in frilly dresses when they went to live with their sports-lawyer uncle in his world of locker rooms, bookies and gambling. Now the girls are publicists in their uncle's firm, The Hot Zone.
Despite her upbringing, Annabelle is all woman. She's naturally drawn to real men—like her latest client, businessman and former football legend Brandon Vaughn.
The chemistry is potent, undeniable, irresistible. Annabelle soon realizes that Brandon is much more than just another jock. And that she'd better hold on tight if she doesn't want to lose her heart.
Targeted Age Group: 18+
Written by: Carly Phillips
Buy the ebook:
Buy the Book On Amazon
Buy the Book On Barnes & Noble/Nook
Buy the Book On Apple Books
Buy the Book On Kobo
Author Bio:
After a successful fifteen-year career with various New York publishing houses, and over 40 sexy contemporary romance novels published, N.Y. Times and USA Today Bestselling Author Carly Phillips is now an Indie author who writes to her own expectations and that of her readers. She continues the tradition of hot men and strong women and plans to publish many more sizzling stories. Carly lives in Purchase, NY with her family, two nearly adult daughters and two crazy dogs who star on her Facebook Fan Page and website. She's a writer, a knitter of sorts, a wife, and a mom. In addition, she's a Twitter and Internet junkie and is always around to interact with her readers.
Follow the author on social media:
Learn more about the writer. Visit the Author's Website
Facebook Fan Page
Twitter