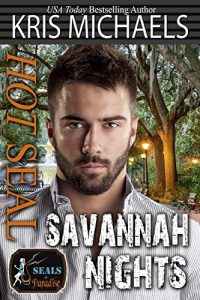 "About Hot SEAL, Savannah Nights:
Rio North wasn't ready to leave the SEALs and his brothers in arms, but his destiny called him to Savannah. Born into wealth, he used his family's fortune to help his teammates. While his friends in the military teased him about being a babe magnet, it took a little help from fate in the form of mistaken identity to connect him with the woman he wanted permanently in his life. If only she'd quit running from him.
Meghan Williams finally has her life under control and has sworn this was the last time she'd let her sister "fix her up" with a blind date… until she walked into the restaurant and saw him. Black slacks and blue shirt… yep. Fit the description. She'd never say a bad word about her sister again.
This charming, handsome man couldn't be her date. In this case, it sucked to be right. Mistaken identity much? But even after realizing her error, he still wanted to see her again. Nope, nope, nope. He was gorgeous. He drove an expensive import; his family ran the biggest company in Georgia, and she was… everything he wasn't. Even though her instincts said he was trustworthy, her life experience screamed run.
What's a girl to do when a gorgeous former SEAL pursues her with the same degree of intensity he brought to his former profession?
Targeted Age Group: 18+
Written by: Kris Michaels
Buy the ebook:
Buy the Book On Amazon
Buy the Book On Barnes & Noble/Nook
Buy the Book On Apple Books
Buy the Book On Kobo
Author Bio:
USA Today and Amazon Bestselling Author, Kris Michaels is the alter ego of a happily married wife and mother. She writes romance, usually with characters from military and law enforcement backgrounds.
Kris was born and raised in South Dakota. She graduated many years ago from a high school class consisting of 13 students (yes that is thirteen, eleven girls and two boys… lucky boys). She joined the military, met her husband, and traveled the world. Today she lives on the Gulf Coast and writes full time.
Kris is an avid people watcher and dreamer. The stories she writes are crafted around the hopes and dreams of a true romantic. She believes love is essential, people are beautiful, and everyone deserves a happy ending.
When she isn't writing Kris enjoys a full life revolving around family, friends, laughing, whiskey, and cold red wine. (Yes cold… don't judge.)
Follow the author on social media:
Learn more about the writer. Visit the Author's Website
Facebook Fan Page
Twitter
This site contains affiliate links to products. We may receive a commission for purchases made through these links.