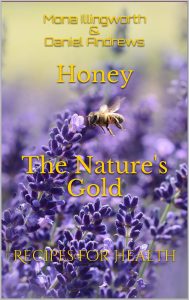 About Honey The Nature's Gold: Recipes for Health (Bees' Products Series Book 1):
Honey and Health – they go hand in hand.
The book brings in the foreground the multiple benefits of honey. The nature' s gold stands out because of its multiple therapeutic characteristics, in particular the anti-oxidant, anti-inflammatory and anti-microbial features. These properties play a significant role in preventing aging and averting and treating degenerative, as well as chronic conditions, such as cardio-vascular and pulmonary diseases. By regular consumption, honey also boosts the immune system, so that it helps in preventing and treating infections. Overall, honey consumption reduces fatigue and is one of the most effective energizers in nature.
The book represents a guide with numerous recipes for many conditions, also briefly and simply depicted. The authors never tired to warn about the importance of precisely following the recipes, and kept advising that the treatment should be applied under medical supervision.
We hope you will appreciate the information presented and will take advantage of the nature's gold benefits shortly
Buy the ebook:
Buy the Book On Amazon
Buy the Book On Barnes & Noble/Nook
Buy the Book On iBooks/iTunes
Buy the Book On Kobo

Author Bio:
Both Mona Illingworth and Daniel Andrews underwent a medical doctor training. Nonethe-less, they have managed to retain a strong and fulfilling relationship with the nature, connection which began in the country during early child-hood. In order to hand over their knowledge, as well as the humankind thousands-years old in-formation about the nature, they created the Bees' Products Series. "Honey – The Nature's Gold Rec-ipes for Health" represents the first volume. The second volume is already in the making. They hope this series will make a difference in people's life.