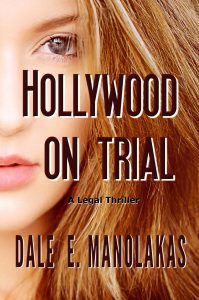 "About Hollywood on Trial:
SPECIAL NEW RELEASE PRICE MARKED DOWN FROM $5.99 TO $.99 FOR A LIMITED TIME
Hollywood … industry secrets uncovered—drugs, sex, betrayal, murder … the power elite exposed and hunted down … murder on trial
Sexual currency, extortion, and murder—the hidden life behind the cameras in Hollywood. Josh Stein, the industry's top entertainment lawyer, represents star power—the price for ingénues is sex. After Josh's favorite ingénue dies on a stormy set, he replaces her in the coveted role with Kaitlin O'Keefe, a sultry gray-eyed red head beauty. On set, off set, and at locations shoots, the famous director Nick Claren vies for Kaitlin's favors. The door open, Kaitlin mingles with Hollywood's elite and pits man against man, as she willingly and unwillingly does what it takes to claw her way into the inner circle. After Kaitlin goes one step too far, she's found dead on Josh's Malibu Colony estate. A murder investigation rips apart the lives of the industry elite, and the murder trial of the century shocks the world.
~~READ NOW~~
✩ AMAZON AUTHOR REVIEWS: "Have read this author before. Truly gifted." "Put you into the courtroom." "… amazing trial …. This author has a particular talent for developing real life characters that you can't forget." "Where John Grisham offers one-dimensional cardboard replicas, Author Dale E. Manolakas delivers with fully-realized characters who explode off the page. Visceral. Sensual. Alive."
✩ GOODREAD AUTHOR REVIEWS: ."Ms Manolakas is a wonderful storyteller and creator of fascinating characters." "I highly recommend … this author. " "… gifted author …"
•Visit the author's official website to buy and for the latest news and sign up for new release notices
• Visit You Tube Channel for Author's book trailers
Targeted Age Group: 18 and over
Written by: Dale E. Manolakas
Buy the ebook:
Buy the Book On Amazon
Buy the Book On Barnes & Noble/Nook
Buy the Book On Apple Books
Buy the Book On Kobo
Link to Series: https://www.amazon.com/gp/product/B0798D9PL9/ref=dbs_a_def_rwt_bibl_vppi_i1

Author Bio:
TOP 100 LEGAL THRILLER AUTHOR
Author Ray Bradbury's friendship and encouragement inspired Dale E. Manolakas to pursue writing as a career.
Dale E. Manolakas earned her B.A. from the University of California at Los Angeles, and M.A., M.S., Ph.D. and J.D. degrees from the University of Southern California. She is a member of the California Bar, had the privilege of clerking for The Honorable Arthur L. Alarcón at the United States Court of Appeals for the Ninth Circuit, was a litigator in two major Los Angeles law firms, a senior appellate attorney at the California Court of Appeals, and an Administrative Law Judge. She is also a member SAG-AFTRA and Actors' Equity Association.
Become an insider:
Follow the author on social media:
Learn more about the writer. Visit the Author's Website
This site contains affiliate links to products. We may receive a commission for purchases made through these links.