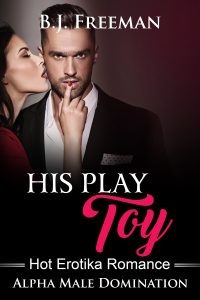 "About His Play Toy:
Felicia. Lovely Felicia. It wasn't hard to see that she would give me everything I wanted. No matter what it was she was willing. She wanted all the pain and passion that I wanted to give her. To take all my dreams and help them come alive. As I think about her now I know she's in the chambers just waiting for me. Her legs strapped to the bed posts, her wrists up in the shackles. Thinking about her is making me throb painfully. I love how she was so eager to please me. The only woman that I've ever met who would take what I wanted to give. No matter the pain or the pleasure she was always looking at me, wondering what I was going to do next. Wondering just how much she was submitting herself to.
Targeted Age Group: 18-60
Written by: B.J. Freeman
Buy the ebook:
Buy the Book On Amazon

Author Bio:
Benjamin Joseph Freeman was born and raised in the Bronx, New York in 1980. He spent most of his adult life abroad, being a massage therapist in Paris, fitness instructor in London, living with lions in Africa and taking part in latin dance competitions in Colombia. He's getting the most of his life what makes his creativity limitless. He's passionate about male-female sexual interactions, so his books are mostly based on his own experience.
This site contains affiliate links to products. We may receive a commission for purchases made through these links.