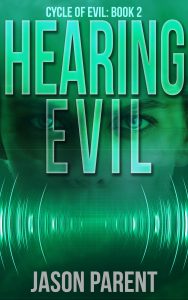 About Hearing Evil:
Michael Turcotte wants nothing to do with his so-called gift—the ability to see other people's fates simply by touching them. Michael decides to spend his summer searching for answers about his past. He can't rest without the sounds of forgotten tragedy echoing through his dreams, but reconstructing his memories will come with a whole new set of problems even he can't foresee.
Detective Samantha Reilly has always looked out for Michael, but now that she's taken him into her home, she fears her maternal instincts are lacking. When a brutal gang sets off a chain reaction of crimes, Sam struggles to choose between the two most important things in her life: her job and her new foster son. Fate intervenes when Michael is kidnapped, forcing her two roles to collide.
As Michael's past meets Sam's present, their bond will be tested while a city crumbles around them. They'll need all their skills and a lot of luck in order to survive.
Buy the ebook:
Buy the Book On Amazon
Buy the Book On iBooks/iTunes

Author Bio:
In his head, Jason Parent lives in many places, but in the real world, he calls New England his home. The region offers an abundance of settings for his writing and many wonderful places in which to write them. He currently resides in Rhode Island.
In a prior life, Jason spent most of his time in front of a judge . . . as a civil litigator. When he wanted a change, he traded in his cheap suits for flip flops and designer stubble. The flops got repossessed the next day, and he's back in the legal field . . . sorta. But that's another story.
When he's not working, Jason likes to kayak, catch a movie, and travel any place that will let him enter. And read and write, of course–he does that too sometimes.
Follow the author on social media:
Learn more about the writer. Visit the Author's Website
Facebook Fan Page
Twitter
This site contains affiliate links to products. We may receive a commission for purchases made through these links.