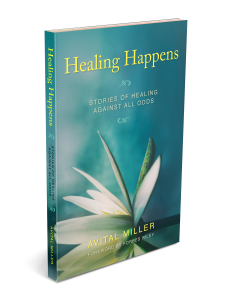 About Healing Happens: Stories of Healing Against All Odds:
Healing Happens brings you insight and inspiration from health and healing experts who cured themselves and others despite dire medical prognoses from over twenty illnesses including cancer, diabetes, and autoimmune disorders. Enhance the power to heal yourself through natural healing techniques and awareness in order to comfortably, energetically, and joyfully live your passions.
Some of the people in the stories in this book were in wheelchairs or expecting to undergo major surgery, while others had been on medication most of their lives or in hospice expecting to die. Through attitude, willpower, belief, food, sound, light, or simple physical exercises, all returned to full health medication-free, able to walk, work, engage in hobbies, and enjoy time with their families.
The stories in Healing Happens emerge from enlightening interviews with seventeen health and healing experts like Bernie Siegel, MD, Brooke Goldner, MD, Meir Schneider, PhD, Ruben J. Guzman, MPH, Michael Platt, MD, and K. P. Stoller, MD, who have repeatedly helped others heal through knowledge attained from personal experiences, studies, and the latest scientific research. They reveal there are more possibilities for healing than are commonly known. Discover the most profound wisdom and techniques for gaining more power over your health and healing. Fatal pronouncements do not have to be your fate.
Buy the ebook:
Buy the Book On Amazon

Author Bio:
Avital Miller, author of the book Healing Happens, inspires people to experience boundless energy, absolute happiness, and true success in order to live the best life possible. For over fifteen years Avital has been serving thousands of people worldwide as an award-winning international keynote speaker, healing breakthrough facilitator, and global dancer. Her leadership background includes working as a program manager at Microsoft, lead coach for Success Resources America, sales and marketing director for Crystal Clarity Publishers, yoga and fitness teacher trainer, and fitness director. Her articles have been published in Fitness Professional Online, 30 Seconds, and Sacred Dance Guild Journal. She has performed and taught dance internationally since 1993. A graduate of Washington University in St. Louis, Missouri, with a bachelor of science degree in mechanical engineering and a major in dance, she is known for offering beyond-cutting-edge wisdom with authenticity, delightful energy, and infectious joy.
Follow the author on social media:
Learn more about the writer. Visit the Author's Website
Facebook Fan Page
Twitter