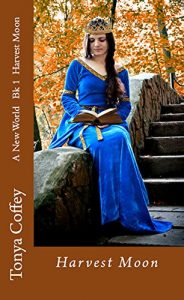 "About Harvest Moon (A New World #1) by Tonya Coffey:
Seventeen-year-old Jessa lives in the remote mountains of Kentucky and has always found peace in the forest. Close to her eighteenth birthday, her dad buys her a book and things begin to happen. With her dreams leading her, she uncovers a world within her own with Faeries. They look and act like people she grew up with but she quickly finds she is the one who is different. She is the hidden heir to the throne and the Faeries need her to come home and save them from the Trolls.
If it wasn't difficult enough for Jessa to move to a different world, she has to marry the man who saved her from the Trolls when all she wants to do is run to his best friend, Micha. With so much to worry about, how can she keep the Faery realm from falling into the hands of the evil Trolls and the Ancients?
Targeted Age Group: Middle Grade
Written by: Tonya Coffey
Buy the ebook:
Buy the Book On Amazon
Author Bio:
Tonya grew up in a small town in Kentucky. Her husband and two sons inspire her to be the best she can. They motivate her, giving her the confidence to dive into worlds unlike any of this world. She loves to create places that bring you to the edge of fantasy and reality. Where you could believe that place truly existed.
Follow the author on social media:
Learn more about the writer. Visit the Author's Website
Facebook Fan Page
Twitter
This site contains affiliate links to products. We may receive a commission for purchases made through these links.