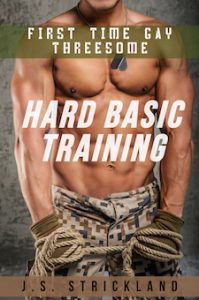 "About Hard Basic Training – First Time Gay Threesome: Men in Uniform Go Gay:
Dirk, Andre and Bobby are new recruits going through basic training. The grueling 10-week course bonds them together but their bi-curious way strengthens that bond even more!
Read as straight men in uniform go gay in J.S. Strickland's new erotic short story!
Targeted Age Group: 18+
Written by: J.S. Strickland
Buy the ebook:
Buy the Book On Amazon

Author Bio:
J.S. Strickland is an erotic author writing about all-things gay. "I particularly like straight guys who have to go gay for one reason or another. It's fun to write how they are nervous at first but then give into their gay fantasies and secret gay desires!"
Search, download and read all of J.S. Strickland's gay, first time gay, straight to gay and gay group sex stories on the Amazon Kindle Store.
Follow J.S. for upcoming free and Amazon Countdown Days!
Follow the author on social media:
Learn more about the writer. Visit the Author's Website
Twitter
This site contains affiliate links to products. We may receive a commission for purchases made through these links.