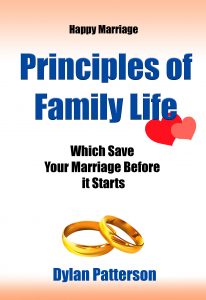 "About Happy Marriage Principles of Family Life Which Save Your Marriage Before it Starts:
This book about marriage is non-fiction. It combines marriage advice and counseling. The book is an excellent marriage guide. It covers the entire marriage philosophy. If you want to help your children understand the principles of happy family life, then this book will be a wonderful gift.
Targeted Age Group: oll
Written by: Dylan Patterson
Buy the ebook:
Buy the Book On Amazon

Author Bio:
Dr. Patterson is one of the most sought-after experts in the field of mental health. He advises on marriage for more than 20 years. The fact that he himself and his wife are in their first and only marriage for more than 20 years certainly suggests that his advice is worth listening to.
This site contains affiliate links to products. We may receive a commission for purchases made through these links.