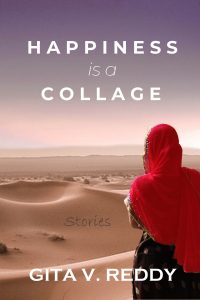 "About Happiness is a Collage:
A painter derives inspiration from a long lost love. Every night after going to bed, a woman scours a vast desert for her missing husband. A young woman strides through two worlds. A son experiences the miracle of his father's immense love. An actor's wife struggles to keep her husband from slipping into his reel life. And a busy professional tries to factor in pregnancy and motherhood into her hectic life.
Among those traversing this space are a henpecked billionaire, a homeless boy, a middle-aged wife dealing with infidelity, and a seeker finding solace with a lion and a deer.
Targeted Age Group: 30 and Above
Written by: Gita V. Reddy
Buy the ebook:
Buy the Book On Amazon
Buy the Print Book:
Buy the Book On Amazon
Author Bio:
Gita V.Reddy lives in Hyderabad, India, with her husband and son. She writes fiction for both adults and children. Her books for children are written when she takes a break from writing for adults and vice verca.
She enjoys thinking up tales of different genres and has written historical fiction, women's fiction, and recently has made a foray into regency romance.
For children, she has written mysteries, adventure tales, fantasy, science fiction, and also a fable.
In addition to writing, she is interested in art and has illustrated three picture books.
Follow the author on social media:
Learn more about the writer. Visit the Author's Website
Facebook Fan Page
Twitter
This site contains affiliate links to products. We may receive a commission for purchases made through these links.