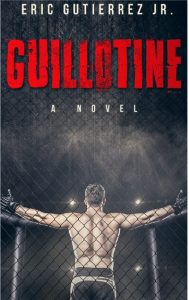 "About Guillotine:
"Nah, keep it. When this song is out, I'm gonna get it back and then some."
Declan is having the time of his life being the sound engineer for Tony Hookz, a rapper who loves to shove him and litter him with showers of dollar notes. Not. He endures long hours in a cramped studio with Hookz and his jackal goons who stink of beer and rolled herb. His ego is bigger than the door – and it is slowly pushing Declan to the edge of his patience.
Nothing tells you about the person you really are until it all falls down.
Without his realization, these long hours and misery have seeped into his homelife with his girlfriend, Tiff, and their little son, DJ. Until one night he returns home to an empty house. It was a downward spiral that sucked him and swallowed him whole.
Everyone has secrets to keep, and they kept them well. But there's nowhere to hide when they are ripped out in the open and exposed.
Even on the brink of a mental breakdown, Declan stumbles through his routine (with a few additives), working with bands like Oath of July and people like Hookz. After one confrontation goes too far – Declan has one chance to build himself up, but it's all down to him to stand up for himself and his loved ones. When life decides to throw him more punches – He'll take pride and be more than ready to give it his own Killshot!
Welome to Team Killshot.
Targeted Age Group: 17+
Written by: Eric Gutierrez Jr.
Buy the ebook:
Buy the Book On Amazon
Buy the Book On Barnes & Noble/Nook
Buy the Book On Apple Books
Buy the Book On Kobo
Buy the Print Book:
Buy the Book On Amazon
Author Bio:
Eric Gutierrez Jr. is a Texas-born writer and coder. He's written stories and the graphic novel, Devil Sunrise. He now perches on a fence post and annoys his neighbors with poor rooster imitations.
He also likes to code while sipping on a cold cup of tears and whiskey.
Follow the author on social media:
Learn more about the writer. Visit the Author's Website
Twitter
Instagram