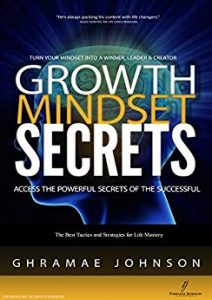 "About Growth Mindset Secrets:
Can a book transform your life? If it can transform your mindset, then YES! From the most authentic Gurus to the highest acclaimed neuroscientists, they agree on one thing – Changing your life means changing your mind.
After extensive study and research, the author of Growth mindset Secrets has gathered the most powerful, transformative information that can turn an underperforming mind into a success-generating machine.
Ghramae Johnson is a serial entrepreneur, author, speaker and success coach. With two decades of experience and many clients that testify to his life transforming touch. He has documented much of his secret source within this book. The Growth mindset Secrets resource is designed to turn normal and underperforming mindsets into mindsets that are likened to the mindsets of the most successful people in the world. The information stored up within each page is capable of creating a significant shift in your thinking, in your behavior and therefore in your life. Follow the suggestions, and you'll witness real, permanent change. It is an easy to follow guide that takes you through the stages of mindset growth. It clarifies the 3 vital levels of leveraging the 20 instrumental traits of the most successful. It walks you through one of the most powerful mind and heart systems for attracting your biggest desires. Also, a whole chapter is dedicated to some of the most effective Cognitive behavioral therapy techniques that are capable of developing and expanding your intelligence.
Many of us want to make great choices, have a crystal clear perspective, attract our most exciting visions and create a life that we love living. Attributes that are generally produced by a type of mindset; a mindset that is constantly developing and re-wiring itself so that it serves your greatest desires and turns your dreams into reality. In Growth Mindset Secrets you will learn how low-performing mindsets can be reprogramed into high very performers.
Targeted Age Group: 18-45
Written by: Ghramae Johnson
Buy the ebook:
Buy the Book On Amazon

Author Bio:
Ghramae Johnson writes Wellness, spiritual and life mastery articles for people that want to see their happiness, success and fulfillment levels surge. His articles have appeared in a number of e-zine sites, including SelfGrowth.com, Ultimatelifemgazine.com, EzineArticles.com, ArticlesBase.com, HubPages.com, and Medium.com. He writes articles, authors books, and coaches on various self-development subjects and modalities. He's also a regular teacher at retreats and seminars around the world. His articles focus on personal development, ancient wisdom with nueroscience-but never at the expense of providing an entertaining read.
This site contains affiliate links to products. We may receive a commission for purchases made through these links.