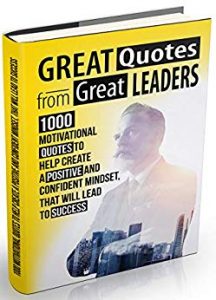 "About Great Quotes From Great Leaders: 1000 Motivational Quotes to Help Create a Positive and Confident Mindset, that Will Lead to Success:
"Great Quotes From Great Leaders" is an invaluable tool for business leaders, coaches, writers, public speakers, or anyone who wishes to improve their communication skills, motivate and inspire people
Targeted Age Group: G
Written by: Albert Goodman
Buy the ebook:
Buy the Book On Amazon

Author Bio:
Albert Goodman is a firm believer that quotes is one of the most beautiful and wisest things created.
Think about it.
You can read a whole chunky and thick book. In search of knowledge, you'll likely be bombarded with a barrage of confusion. Everyone is telling you what to think and how to think.
The Beauty of Quotes is that quotes gives you the space for exploration. Every single wise quote has no meaning, except for the one that you give it. There is no context, except to that of the reader (You).
This site contains affiliate links to products. We may receive a commission for purchases made through these links.