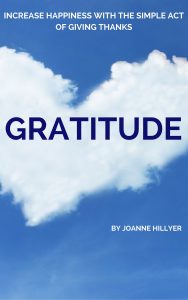 "About Gratitude: Increase Happiness with the Simple Act of Giving Thanks:
Do you want to learn how gratitude can help you increase happiness, gain physical health, and build better relationships? Check out my free book and find out.
Gratitude is acceptance and appreciation for what we have and for those around us. It's difficult to appreciate these things when the ego is in the way. Fortunately, there is a way to control your ego. The important thing is to ask the ego to stand aside to allow the conscious and subconscious to meet. Once they meet, it's important to ask yourself what makes you truly happy, and make sure to be completely honest. Keep asking why you might feel a certain way and what you can do about it. You are becoming your own therapist and learning more about yourself.
This is what makes gratitude a powerful weapon: It teaches us to let go and to appreciate what's around us. It is the impulse that leads us to the path of happiness, satisfaction, and true validation.
Everyone is in pursuit of happiness. Sadly, many people believe that happiness can only be achieved by acquiring money and materialistic things. We are so focused on chasing after the superficial aspects of life that we neglect the people who truly care about us. However, through gratitude we are able to open our eyes to true happiness. Gratitude helps us let go and appreciate what we have and those around us.
Many assume that gratitude is as simple as being polite and saying thank you. Your parents often tell you to say thank you when someone helps you or gives you something. Thanking people becomes so routine that we often view the action as just another everyday chore. There's no meaningful, conscious feeling behind the words. To learn gratitude, we really must think about the steps that people take to help us and others.
Gratitude tends to help you live a happier life. People prefer to spend time with happy people rather than unhappy people. You are likely to attract more people to your life if you allow yourself the happiness of gratitude. You may even find yourself influencing other people and helping them live happier lives!
Gratitude increases feelings of well-being and optimism, makes us more agreeable, and can even better our physical health. They prove that these benefits of gratitude are not just made up by someone trying to hook you; the benefits are real and measurable.
In this book I'll show you:
– What is gratitude?
– What is gratitude not?
– The benefits of gratitude
– The journey to gratitude
– What you need to practice gratitude
– How to practice gratitude
– Techniques for beginners
– Exercises for the workplace
– How to teach children gratitude
Targeted Age Group: adults
Written by: Joanne Hillyer
Buy the ebook:
Buy the Book On Amazon

Author Bio:
Joanne Hillyer has a lifelong interest in wellness, healthy eating, alternative medicine, and the outdoors. She is especially interested in using easily found tools and ingredients for improving healthy living. Born and raised in the Pacific Northwest, she enjoys the great outdoors, travel, cooking, and walking.
Follow the author on social media:
Learn more about the writer. Visit the Author's Website
This site contains affiliate links to products. We may receive a commission for purchases made through these links.