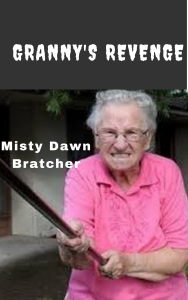 "About Granny's Revenge:
Whoever believes seniors are harmless hasn't met Granny.
After losing her family, her friends, her home and everything else she holds dear to a careless drunk driver; Granny decides to take the law into her own hands; it's a record-breaking, mind-baffling killing spree that the small southern town won't soon forget.
Targeted Age Group: adults
Written by: Misty Dawn Bratcher
Illustrated by: Misty Dawn Bratcher
Buy the ebook:
Buy the Book On Amazon
Buy the Book On Smashwords
Buy the Book On Apple Books
Buy the Print Book:
Buy the Book On Amazon
Author Bio:
I've loved telling stories to my friends and family since I was little. So, it was no surprise that I chose a writing career.
I've worked for a hometown newspaper for several years, a copywriter after that. I enjoyed the work, but storytelling is my true passion.
Follow the author on social media:
Learn more about the writer. Visit the Author's Website
Facebook Fan Page
Twitter
This site contains affiliate links to products. We may receive a commission for purchases made through these links.