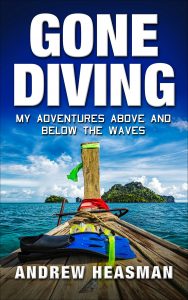 "About Gone Diving: My Adventures Above and Below the Waves:
Have you ever wondered what life as a SCUBA Diving Instructor is really like?
Is it as glamorous a lifestyle as they say? Do they live-the-dream?
Follow the author as he evolves from a novice diver, to become the owner of his own dive business. Travel the world, country-to-country, as he "chases-the-sun" – from the islands of Fiji and Australia in the east, to Central America and the Caribbean in the west.
Share his adventures above and below the ocean's surface:-
Experience the thrill of Shark encounters, the beauty of colourful Nudibranches, and the serenity of majestic Manta Rays. Embark upon marine conservation projects in the Seychelles and Belize, studying corals and exotic creatures.
Discover long forgotten Maya Temples hidden beneath dense rainforest, and climb an erupting volcano. Marvel at Uluru, live on a remote desert island, and survive a burning ship as it slips beneath the waves.
Experience the best, and the worst, of being a diving instructor…
These and many more adventures await you in, "Gone Diving: My Adventures Above and Below the Waves."
"Gone Diving" is the third book in "The Memoir Series."
Targeted Age Group: Adult
Written by: Andrew Heasman
Illustrated by: Andrew Heasman
Buy the ebook:
Buy the Book On Amazon

Buy the Print Book:
Buy the Book On Amazon
Author Bio:
Andrew Heasman was born in London, and has always had the travel-bug. Having joined the Royal Navy at the age of 20, he travelled the world, rising through the ranks to become a Petty Officer aboard the aircraft carrier, HMS Invincible. His next career path saw him become a police officer in rural Lincolnshire. Patrolling the towns and countryside of the county, he faced difficult and dangerous situations alongside many lighter moments. Finally, he gave it all up to become a SCUBA diving instructor, following the sun as he worked his way around the globe. Currently living in Staffordshire with his wife and two daughters, he has put his experiences down in writing. "The Memoir Series" was born.
Follow the author on social media:
Learn more about the writer. Visit the Author's Website
Facebook Fan Page
Twitter