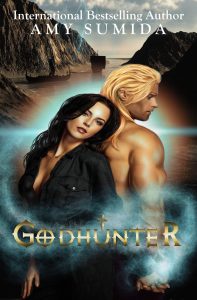 "About Godhunter:
The Gods are real and I hunt them.
Ever since I learned the truth—that Gods live among us, manipulating and murdering humans—I've fought against them. I've trained with sword and magic to be strong enough to kill them. Except now, on the cusp of my greatest battle, everything I know has been turned upside down by one man and his offer of an alliance. One man who is also a god.
Targeted Age Group: 18-45
Written by: Amy Sumida
Illustrated by: Amy Sumida
Buy the ebook:
Buy the Book On Amazon
Buy the Book On Barnes & Noble/Nook
Buy the Book On Smashwords
Buy the Book On Apple Books
Buy the Book On Kobo
Buy the Audio Book:
Buy the Book On Amazon
Buy the Print Book:
Buy the Book On Amazon
Author Bio:
Amy Sumida is the Internationally Acclaimed author of the Award-Winning Godhunter Series, the fantasy paranormal Twilight Court Series, the Beyond the Godhunter Series, the music-oriented paranormal Spellsinger Series, and several short stories. Her books have been translated into several languages, have made it to the top sellers list on Amazon numerous times, and the first book in her Spellsinger Series won a publishing contract with Kindle Press.
She was born and raised in Hawaii, and brings her unique island perspective to all of her books. She doesn't believe in using pen names, saving the fiction for her stories. She's known for her kick-ass heroines who always have a witty comeback ready, and her strong, supporting male characters who manage to be sensitive and alpha all at once.
Follow the author on social media:
Learn more about the writer. Visit the Author's Website
Facebook Fan Page
Twitter
This site contains affiliate links to products. We may receive a commission for purchases made through these links.