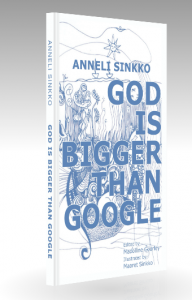 About God is bigger than Google:
If you are looking for a theological treatise of God, or a scientific diagnosis of the functions of the internet, take this book back to the place of purchase and get a refund.
You see, this book is about the Divine entity I call Jesus Christ. You may call him with a different name—it doesn't really matter. This book is about my thoughts and experiences with him… and some more.
This book really started when I had one fall. And then another one. The second one had devastating consequences.
I lived a comfortable life with my youngest son. I attended church sometimes. I did some shopping. I occasionally cooked meals—I enjoy cooking. I was in reasonable health. Being 78 years old at the time, life was good. Now I am 79. And I don't like it at all. Seventy-nine is a number that shows you, you haven't really arrived yet. You are just hanging there. Waiting to be 80.
But back to my introduction…
So I fell—but not from grace, mind you—but I fell physically and painfully. I ended up in hospital for one week. But then I fell again. This time it became serious. I almost lost my leg. Nine weeks and nine operations later, I finally arrived home. I still have to see specialists for a while. And nurses come to my home to dress my skin graft.
During my time in hospital, I prayed. What else could I do? I am not a patient woman—here I was forced to be still. I even told God I would quit smoking. I have always prayed, especially at a 'come to Jesus' moment.
The first prayer I ever learnt as a child was an evening prayer. I still say the same prayer each night. Typical of the Finnish way, our prayers and fairy tales are designed to scare children. It is not unlike this prayer I was taught by my mother.
Dear God
Should I not rise from this bed,
take me to heaven.
Amen.
It scares me a little bit. Even today. I don't want to die yet.
I prayed in hospital. I was just so deep in my misery that all I could do was to lie there and seek God. In my bed of pain, he was there. We discussed things. Not only my pressing needs (to get out of hospital), but of other things that were important to me. And also matters that were important to him. My need was obvious—I wanted to get out of there. What was important to my Lord?
When I was meditating, he came to me and said:
How about writing a book about me?
I was quite surprised.
There has been a book written about you, you know. The Bible?
And he smiled to me and said,
I want you to write a book about ME.
I asked:
Who are you?
And he replied.
I am the man from Nazareth.
Jesus explained the reason he wanted me to write this book, together with him, was to show people who he really is and learn more about him.
His trademark, I am the man from Nazareth, shows you and me he is a human being. He is also God.
You may now say "Anneli, all these voices you hear in your head are just a sign that you are suffering from advanced dementia."
Wait a minute, I have always heard him. Even when I was young.
In hospital, I asked more questions and he answered. Sometimes using amazingly, modern terminology. I found out that he knew about our world. Well, of course he did. I just didn't think he was so up-to-date with modern technology. Quite funny, really. We think of God and Jesus as living in a different space, or in ancient days. Not modern people. Well, he is God. Why would he not know and be concerned about our world?
When I was wondering about prayer, I asked him,
How can God hear and respond to all our prayers?
There must be trillions of prayers coming to him daily.
On your side, you must have quite a large network to separate requests from adoration, and there must be a lot of prayers waiting to be answered?
Smiling to me again, he replied:
God is bigger than Google.
WOW.
When you type your question to Google, you get immediate answers. Yet here and now, is he—the man from Nazareth—telling me that God is bigger than Google.
I started to laugh out loud. In my sorry state in hospital, sick as a dog, I started to laugh. And he laughed with me. He does have a sense of humour.
So here you and I are today in this book.
Waiting is not something I am good at. I lack the virtue called patience. I don't even like the word.
When I was young, I used to pray for humility because my arrogance was like a snake coiled within me waiting to appear. Still to this day. To have that snake inside of you… Full of me. Ready to save the whole world single handed.
Even such as myself, I have learnt humility to a degree. And often. It is not pleasant. It is quite painful and I am still learning. I have learnt the hard way to ask God to teach me patience. Based on past experiences, I am hesitant to ask my God to teach me patience. Not that he wouldn't do it. He would be delighted if I ask him to teach me patience (again). I am not ready to ask again.
What have I learnt from this very painful experience of falling? I am fragile—I have to walk carefully and to trust God.
I am a Christian—a follower of Jesus Christ, not of a religion. I am also a retired minister of The Word. I am also one of those people who sees Him walking along our streets. Yes, you read it. Jesus walks among us in plain sight—dressed not in robes of white, but everyday clothes. Just like one of us. Just like an undercover God wandering. To use Umberto Eco's words: "They don't know me. But after all, they are all my children."
I asked my Lord,
Why people don't see you as I see you?
He gave me his winning smile, now tempered with sadness, and said:
They don't believe in me.
Well, that explains something to some people. On the other hand, it does not explain why all the believers don't see him.
All I know is that the Saviour, Jesus—the man from Nazareth—is present here on this planet and people cannot see him because they don't believe in him. But people everywhere are seeking a saviour who would accept and help them.
 
Buy the ebook:
Buy the Book On Amazon

Author Bio:
Born in Finland in 1938, a year before the Winter War (1939-1943), Anneli Sinkko came from a middle class family. Interestingly she was christened a week after her birth as she was not expected to live. The lifestyle of her youth was vastly removed from the large part of her adult life spent in the service of God.
She moved to Australia in the mid 1960s where she was actively involved with the local Finnish Lutheran church. Encouraged by her husband she answered God's call to follow Him. Literally overnight she left her Lutheran church, old friends and Finnish Lifestyle [this was not a smooth transaction] to begin a life-journey that started with Urban Aboriginal Mission work and studies at the Queensland Bible Institute. During her work with the urban aboriginal communities she was made an honorary Auntie.
She went on to complete her ministerial training at Trinity Theological College also completing Honours at the Studies of Religion at the University of Queensland where she learnt classical Hebrew and Greek of the New Testament.
She was ordained as the Minister of the Word with the Uniting Church in Australia in 1986 and has devoted her life in preaching the Word of God, teaching, lecturing, and helping others. After the death of her husband in 1995 she completed studies with the Queensland Counselling College, majoring in Gestalt therapies.
While still working in Parish ministry she continued her studies at the University of Queensland and graduated with a research degree of the Master of Philosophy in 2003.
She lives simply and with little, a way of life she has gravitated towards since the 1970s. Her philosophy of life is simple: God has made himself visible and available to all in Jesus Christ: He is, to use a very Tillichian expression – our ground of being.
Some would say that she is a mystic as she has experienced visions, dreams and signs from her Lord. She would say that God created the world and that He is her world.
She is now 80 and lives in Brisbane, Australia. She has lived an exciting and fulfilling life in service of others; has three children and three grandchildren. She loves her Lord Jesus and smokes occasional cigarette for human enjoyment.
The Master of Philosophy Thesis has been published with Dr Teresa de Donato at Amazon: 'Hunting for the Tree of Life: A Spiritual Journey in the Garden Tradition'. This work and her Master of Philosophy Thesis 'John 18-20 and the Garden Traditions: A Literary and Theological Reading' are available in the 'Academia' website.
Follow the author on social media:
Facebook Fan Page