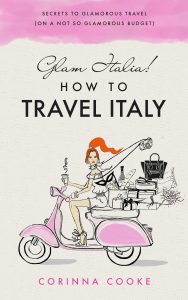 About Glam Italia! How To Travel Italy:
Does your dream vacation seem out of reach? Discover stress-free, cost-saving, fabulous secrets for planning the ultimate Italian getaway.
Do you want to see the glamorous side of Italy but think it's out of your budget? Does preparing for international travel leave you feeling anxious? Do you worry about falling into a tourist trap? Italian travel guide and blogger Corinna Cooke has years of experience creating glamorous private vacations throughout every corner of the country. And now she's here to share her insider tips so you can make the most of your Italian adventure.
Glam Italia! How to Travel Italy is your all-in-one guide for crafting your personalized dream vacation. You'll create an itinerary that's custom-fit to your interests: from world-renowned art to mouthwatering cuisine, from breathtaking landscapes to trendsetting fashion. With this guide you'll learn how to find hidden gems and get insider's advice for touring Italy's most famous attractions. Whether you plan to travel in style or on a shoestring budget, you'll discover hidden gems and little-known advice for touring Italy's most famous attractions. With Cooke's hassle-free guide, you'll finally learn to sit back and savor your authentic Italian experience like a local.
In Glam Italia! How To Travel Italy, you'll discover:
– Step-by-step methods for planning your entire trip, regardless of time or budget
– Lists of the best cuisines, and wines by region to satisfy any appetite
– Optimum lengths of time to visit each attraction so you can get the best bang for your buck
– Simple tips for booking flights that will save hundreds of dollars from your bottom line
– Precautions you can take to stay safe and healthy while traveling and much, much more!
Glam Italia! How To Travel Italy is your glamorous go-to travel guide for experiencing this charming Mediterranean destination. If you like practical tips, insider advice from a local expert, and stress-free planning, then you'll love Corinna Cooke's handbook for your dream vacation.
Buy Glam Italia! How To Travel Italy, and pack your bags for a very fabulous, once-in-a-lifetime adventure!
Buy the ebook:
Buy the Book On Amazon

Author Bio:
Do you twirl spaghetti around your fork or slice it?
My name is Corinna and I am an inveterate spaghetti twirler. My favorite place to twirl spaghetti? La belle Italia!
I have been traveling to Italy for decades, both as a vacation traveler and as a private tour guide. I have criss-crossed the country, have been lost and have been found, may have eaten my own weight in pasta (Well, maybe not my entire weight…) have tried wines from every region I have been to, have made lifelong friends there, and have found absolute joy exploring every town, village, city and autogrill along the way!
I am an international makeup artist, blogger at Corinna B's World, and beauty director for a national magazine. I love all things beauty and glamour, high heels, oversized sunglasses and pasta!
My book Glam Italia! How To Travel Italy teaches you how to create your own very fabulous and very affordable Italian vacations. That trip that seemed unattainable is actually well within your reach! I not only want you to visit Italy but want to show you how to do it with a little flair and without breaking the bank.
Follow the author on social media:
Learn more about the writer. Visit the Author's Website
Facebook Fan Page
Twitter
Instagram
This site contains affiliate links to products. We may receive a commission for purchases made through these links.