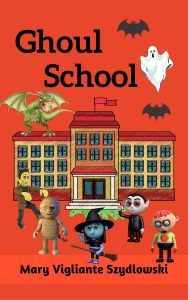 About Ghoul School:
P.S. 19 is out of control! The students are running wild! They're loud, rude, and refuse to follow the rules. They'd rather play tricks on their teachers and fellow students than pay attention and learn. Floors are flooded. Things are exploding. And the cafeteria ceiling is covered with goo. Their pranks and mayhem are destroying the school. The teachers and staff are at their wit's end and don't know what to do. Desperate, they call Witchery and Spells Educational Services for help. This new company provides specially trained substitute teachers, cafeteria workers, and hall monitors to problem schools. Their staff turns out to be a ghastly group of witches, vampires, werewolves, and other assorted ghouls, goblins, and monsters! But as scary as they are, can a visit from these very strict, very scary subs really make the children change their ways?
Buy the ebook:
Buy the Book On Amazon
Buy the Book On Barnes & Noble/Nook
Buy the Book On Smashwords
Buy the Book On iBooks/iTunes
Buy the Book On Kobo

Author Bio:
Mary Vigliante Szydlowski writes across several genres using this and other pseudonyms. Her published Science Fiction works include novels: The Ark, The Colony, The Land, Source of Evil, and novella The Hand of My Enemy. She's also the author of dark fantasies: Worship the Night and Dark Realm, and mainstream novel Silent Song. She's published 8 children's books: Millie Muldoon & the Case of the Halloween Haunting, Ghoul School, Millie Muldoon & the Christmas Mystery, Millie Muldoon & the Case of the Thanksgiving Turkey-napper, A Puddle for Poo, Kia's Manatee, The Duck in the Hole, and I Can't Talk, I've Got Farbles In My Mouth.
Using the pen name Mia Frances, she is the author of the erotic romance murder mystery thriller series In His Keeping: Taken, Banished, and Claimed.
Her short stories, articles, children's stories, essays, and poems have appeared in anthologies, books, magazines, newspapers, and on the web.
She is a member of the Authors Guild, RWA (Romance Writers of America), SCBWI (Society of Children's Book Writers and Illustrators), and SFWA (Science Fiction Fantasy Writers of America).
Follow the author on social media:
Learn more about the writer. Visit the Author's Website
Facebook Fan Page
Twitter
This site contains affiliate links to products. We may receive a commission for purchases made through these links.