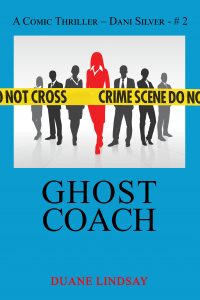 About Ghost Coach:
The GHOST COACH – as real as you think it is
Imagine an old automobile, a car worth millions, lost and forgotten in NY.
Legendary con man Leroy Logan doesn't have to imagine—he created the story himself, decades ago. Now he's ready to cash in.
With Dani Silver, the grifter's daughter, Leroy's got a plan to skim millions. It's a sure thing…until the homicidal loan shark horns in…and the crooked attorney who sees a way to take it all away.
Can Dani and her crew of misfits pull off the con of the century? Doesn't seem likely, does it?
Buy the ebook:
Buy the Book On Amazon

Author Bio:
I wrote my first novel in college at the University of Wyoming, played lead guitar in Pinky's bar as a member of "Suzy Q and the Quad City Ramblers," Got an English degree, then an engineering degree, worked a lot, got married to Traci (probably the best thing to ever happen), wrote several books with Raymond Dean White, retired recently from said engineering and started writing again.
Now I write cheerfully demented novels about con artists and overweight PIs, play guitar a lot (on a very well used and loved 1954 Martin D-18 (for those of you who have guitar lust—centerfold picture available on request) and generally am having the best retirement ever.
Follow the author on social media:
Learn more about the writer. Visit the Author's Website
Facebook Fan Page