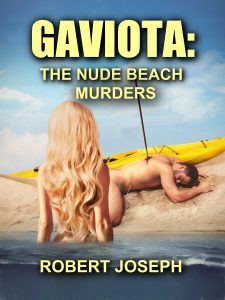 "About Gaviota: The Nude Beach Murders:
A popular ER doctor is found impaled on a SCUBA spear. A motorhome blows up, killing four Gaviota Nude Beach regulars. Clothing-optional beachgoers are beginning to feel they have a target painted on their bare backs. Who is the killer and what is his motive?
When police don't seem all that interested, physical therapist Jake Ross and horse trainer Nikki Desjardin decide to look for answers.
Targeted Age Group: 16-100
Written by: Robert Joseph
Buy the ebook:
Buy the Book On Amazon

Author Bio:
Robert Joseph has published more than 20 books, both fiction and non-fiction. In addition he has also written for movies, TV and the stage. He presently lives in rural Nevada where he can indulge his passion for horses and large dogs.
This site contains affiliate links to products. We may receive a commission for purchases made through these links.