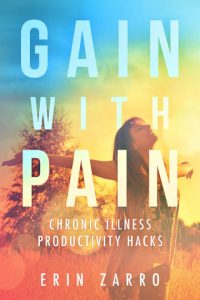 "About Gain with Pain: Chronic Illness Productivity Hacks by Erin Zarro:
Sometimes life gets complicated.
Your doctor has informed you that you have cancer. Or fibromyalgia. Or perhaps lupus. When you receive a serious health diagnosis, you can do one of three things: act as if nothing happened and try unsuccessfully to muddle through, shut down completely…or find your new normal.
In Gain with Pain: Chronic Illness Productivity Hacks, Erin Zarro shares her daily struggles with multiple serious health conditions, and how she found her new normal. She gives you exercises to do to mentally prepare yourself for the day, shares how to plan activities so you don't completely exhaust yourself or worsen your condition, and suggests ways you can get past the grief of your diagnosis and move on with your life.
Even if you don't have serious health problems, you can use the list-making techniques outlined in this book to help organize your time so that the rigors of a busy schedule no longer get in the way of your productivity and happiness. To allow you the kind of time to enjoy friends, family, and the life you deserve.
Targeted Age Group: 18+
Written by: Erin Zarro
Buy the ebook:
Buy the Book On Amazon
Buy the Book On Barnes & Noble/Nook
Buy the Book On Apple Books
Buy the Book On Kobo
Author Bio:
Erin Zarro is an indie novelist and poet living in Michigan. She's married to her Prince Charming, and she has a feline child named Hailey who she's convinced is part vampire. She writes in the genres of sci-fi, fantasy, and horror. Gain with Pain: Chronic Illness Productivity Hacks is her first nonfiction book. She is currently writing a supernatural thriller, and is trying to stay out of trouble. Mostly.
Follow the author on social media:
Learn more about the writer. Visit the Author's Website
Facebook Fan Page
Twitter
Instagram