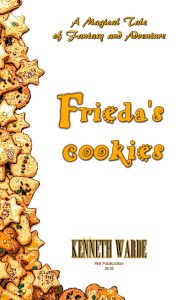 "About Frieda's Cookies:
In a strangely-shaped world far away, lived a little girl in one of the many towns of the Kingdom of Melanion. She's like any other growing child – loves cookies, plays every chance she gets, and curious about a lot of things. But there's one distinct difference which sets Frieda apart. Unknown to her, the magic of an entire world considers her as a friend. And that has never happened before.
Targeted Age Group: 8-14
Written by: Kenneth Warde
Buy the ebook:
Buy the Book On Amazon
Author Bio:
Hi. I am Edmund A.M. Batara. I write fantasy and science fiction books, including the bestselling Accidental Archmage Series. Kenneth Warde is a pen name I use for other works. I am an active member of the Science Fiction and Fantasy Writers of America (SFWA) and a Goodreads Author.
Other Books:
The Accidental Archmage Series
Arcanum Astray/Summus Magister Series
Manus Dei Series
Planar Wars Series
more details and upcoming works on my blog.
Follow the author on social media:
Learn more about the writer. Visit the Author's Website
Facebook Fan Page
This site contains affiliate links to products. We may receive a commission for purchases made through these links.