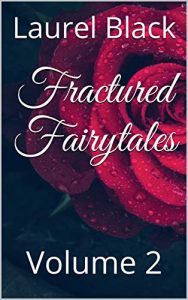 "About Fractured Fairytales: Volume 2:
There's always been an untold nostalgia within an otherwise happy fairy tale. Whether it be through innocent love, erotic romance, or even love born from war, macabre desires will always rule over their hearts. Because after all, that's what it means, for beauty to be found within tragedy.
Stories include In Loving Memory, Senseless, and Until Your Heart Breaks.
Excerpt:
Did he just happen to fall in love with Mare? Was he infatuated with him, to the point where he'd run away with him, forsake everything he knew, just like the fairytales Mare gushed over? Probably not. But it was nice, to know that he was wanted. That someone cared for him.
And it scared him.
It was so fast. And all it took was just one person. One person to get him to open up. One person that made him think back to when things were okay, to when he wasn't feeling so numb, when he didn't start downing alcohol or turn to knives or fire for entertainment or comfort. One person to make him remember what it felt like, before he spun out of control.
So maybe he was right. Maybe it wasn't love. Maybe it was just the high that he gets whenever he felt like he's found the one. Maybe it was the kind of emotions he gets when he finds someone he can latch onto, someone he feels like won't betray him, won't abandon him for anything. He's had those feelings before, and each time he does, he's wrong on all of them.
But it couldn't hurt to hope.
Targeted Age Group: 18+
Written by: Laurel Black
Buy the ebook:
Buy the Book On Amazon

Author Bio:
Laurel Black is a writer who enjoys eating, sleeping, and dreaming of nothing in particular. She finds inspirations in various video games and movies, as well as other books. You can learn more about her on her blog, https://thetragedyoflaurelblack.wordpress.com.
Follow the author on social media:
Learn more about the writer. Visit the Author's Website
This site contains affiliate links to products. We may receive a commission for purchases made through these links.