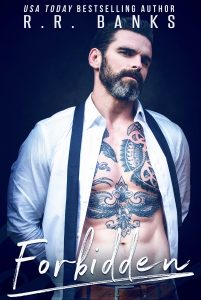 About Forbidden:
This f*cked up world left me numb.
Incapable of love.
Seduction. Submission. Possession.
That's all I wanted from her.
My billions can buy anything.
Except Veronica.
She walked into my classroom,
And I knew she was mine.
I don't ask. I take.
One kiss sealed her submission.
My touch claimed her innocence.
I marked her. Possessed her. Taught her.
She wants more,
But I can't give more.
The horrors of my past won't allow it.
But now she is carrying my baby…
Buy the ebook:
Buy the Book On Amazon

Author Bio:
USA Today Bestselling Author, International Bestselling Author, and Author of multiple Amazon Top 20 Bestselling Books.
Follow the author on social media:
Facebook Fan Page