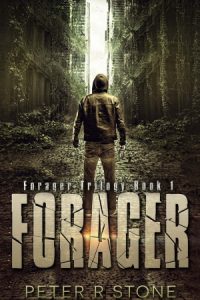 About Forager – A Post-Apocalyptic Thriller Book 1:
Twenty-year-old Ethan Jones lives in a post-apocalyptic, oppressive society that terminates anyone with mutations caused by nuclear radiation in an effort to keep the human race pure. Because of that, he lives every day in fear for his life, for he has an incredible mutation that gives him an edge when foraging in Melbourne's ruins. An edge he uses to survive encounters with the vile Skel savages who roam those ruins.
His life becomes complicated when he rescues a mysterious Japanese girl from the Skel and brings her back with him, for she breaks the town's rigid conventions in her pursuit of him, placing their lives in jeopardy. Her odd behaviour and probing questions baffle him, as does the fact that he understands her when she speaks in Japanese.
At the same time, the Skel ramp up their attacks on the foraging teams. Is this part of a larger plan that could spell the town's doom? And why do the Skel suddenly possess advanced technology – who is backing them, and why?
Keeping his mutation secret, uncovering the girl's true intentions and trying to save the town all vie for Ethan's attention. And if he fails, not only his life, but the lives of all, are at stake.
Buy the ebook:
Buy the Book On Amazon

Author Bio:
Peter R Stone is an award-winning writer, winning the Faithwriters Writing Challenge on three separate occasions, as well as frequently being a Faithwriters Editor's Choice top ten winner. His winning entries include The Medal and Dreams Forsaken.
Peter R Stone, an avid student of history, was reading books on Ancient Greece from the age of four. Periods of interest include the ancient world, medieval era, Napoleonic times, and the Second World War. He still mourns the untimely passing of King Leonidas of Sparta and Field Marshal Michel Ney of France.
A product of the Cold War Generation, Peter Stone studied the ramifications of a nuclear missile strike when he was in his senior year of high school, learning the effects of nuclear fallout and how to (hopefully) survive it. He has ever been drawn to post-apocalyptic and dystopian novels and films, and eagerly devoured The Day of the Triffids and John Christopher's Tripod Trilogy when he was a child. He is also an avid fan of science fiction, and his favorite books include the Lensmen Series by E.E.Doc.Smith, anything by Alastair Reynolds, and the Evergence trilogy by Sean Williams.
Peter Stone graduated from Melbourne School of Ministries Bible College in 1988. He has been teaching Sunday School and playing the keyboard in church for over twenty-five years. His wife is from Japan and they have two wonderful children. He has worked in the same games company for over twenty years, but still does not comprehend why they expect him to work all day instead of playing games.
Follow the author on social media:
Learn more about the writer. Visit the Author's Website
Facebook Fan Page