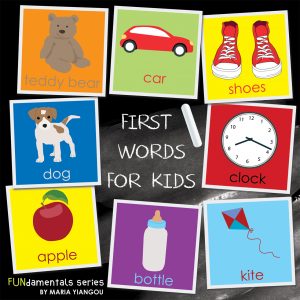 "About FIRST WORDS FOR KIDS:
This book teaches your child common and basic words in an exciting and colorful way. Each page depicts a random selection of words that are used everyday. Bonus pages at the end include numbers, alphabet and colors. A great starting point to build a vocabulary and to start recognizing common items and words. Learn animals, shapes, household items, trucks and vehicles, fruits and vegetables and much more. Learn more than 100 basic words and items with colorful pictures in this first words book. Perfect for children and toddlers early learning!
Targeted Age Group: 2-7
Written by: Maria Yiangou
Illustrated by: Maria Yiangou
Buy the ebook:
Buy the Book On Amazon

Buy the Print Book:
Buy the Book On Amazon
Author Bio:
I am a writer and illustrator of children's books that help kids learn, relate and understand the world around them through basic learning fundamentals. I design my books to include colorful illustrations, basic text and adorable characters in order to make them exciting, interesting and easy to follow. My philosophy is that learning is fun.
Follow the author on social media:
Learn more about the writer. Visit the Author's Website
Facebook Fan Page
Twitter
Instagram
This site contains affiliate links to products. We may receive a commission for purchases made through these links.