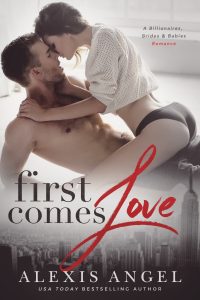 About First Comes Love:
I am his. And he is mine.
Always and forever.
We were young, single, free,
and had our future in front of us.
We were beautiful. Graceful. Desired.
And we knew it.
And then in the center of all that, he came in.
Stomped in and made his presence known.
Intruded on every single self-delusion I had ever had
and completely swept away what I thought I knew
about the world and myself.
All that was left was him.
Us.
Starting our lives together…
Follow ten women in this riveting collection of interwoven stories guaranteed to make both your heart and your panties melt. Experience the rush of falling in love as Alexis Angel takes you on an emotional journey you'll never forget.
Buy the ebook:
Buy the Book On Amazon

Author Bio:
Alexis Angel writes steamy contemporary romance about bad boys for the bad girl in all of us. She is still single at 30, in case anyone is interested to know, and still very much looking for love.
Her favorite things in the world are flowers, chocolate, lingerie, high heels, lipstick, perfume, and the credit card award miles that she gets from buying all that.
Prior to writing, Alexis used to be a financial analyst in New York City. She quickly decided that working for a faceless corporation run by men was not her dream job. So she began to write. And as she began to write, she began to use those credit card award miles to travel all over the world.
Alexis is still single, in case you forgot from above. She spends winters in California, fall and spring in New York City, and summers in Europe. You can join her mailing list at http://eepurl.com/csXC2P or email her at author.alexisangel@gmail.com
Follow the author on social media:
Facebook Fan Page