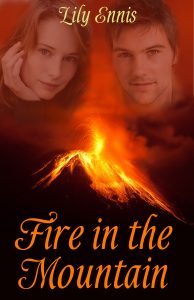 "About Fire in the Mountain:
Set against the backdrop of an erupting volcano in New Zealand's North Island, Lana wrestles with her recent grief, for survival on the mountain and her future with a man whose past she was once part of. Woven through her narrative is Alfred's story and the theft of war medals, and which Lana finds herself enmeshed in, further threatening her life. Follow Lana as she tries to extricate herself from not only the mountain but her past.
Lana returned to New Zealand after the tragic death of her husband, Yuri. Both were musicians. Too painful to continue without him, she finds solace in her old school friend, Sarah, who inspires her to stay and take up geology. She settles into her new life and new love until she unexpectedly reunites with Paul, her first love. With that she is thrown into turmoil as she tries to reconcile the girl she once was with the woman she became.
Paul travelled the world studying volcanoes, devoting little time to his marriage, but he came home to study Mt Ruapehu's lahar. His love for Lana never died and when he learns of her whereabouts he engineers himself back into her life.
Every day of his life Alfred tried not to think of his years spent in prison camps. Then some medals are stolen and he is inextricably thrown back to Monte Cassino. But as he follows the search for the medals he is pleased to add some excitement to his sedate retirement years until it comes at a cost, first to Lana and Paul, and then himself.
Targeted Age Group: Adult
Written by: Lily Ennis
Buy the ebook:
Buy the Book On Amazon
Buy the Print Book:
Buy the Book On Amazon
Author Bio:
I have a business background principally in valuing property. I completed an Earth Science degree (geology) in 2010 and decided a great way to channel the passion I have for the sciences is to combine it with writing. So look out for highly motivated and academic heros and heroines. I'll see if I can't get a little romance going for them!
My home for the past 29 years has been a one hundred year old timber farmhouse on a few acres of land outside the gorgeous town of Thames in New Zealand. My husband and I host touring cyclists and we also enjoy cycling. One day we hope to be touring the world on our bikes.
A goal of mine is to complete a walk from the tip of New Zealand at Cape Reinga to the bottom of New Zealand at Bluff. I am loosely following the Te Araroa Trail and have completed several segments during the holidays – yes I work full time in a law firm. Of course, one day the walk will be the subject of a book. That fact alone is motivation enough to complete the walk. It's tough.
I have tried to live in a minimalist fashion over the last few years and to this end I find that I am even more aware of my environmental footprint than ever before. As a science graduate I am acutely aware how fragile planet Earth is and my message to all is that we must tread lightly, purchase goods ethically and with thought and treat everything in nature with awe.
Meanwhile I have plenty of ideas in my head to keep the typewriter keys clacking.
Enjoy my site and my books.
Follow the author on social media:
Learn more about the writer. Visit the Author's Website
Twitter
This site contains affiliate links to products. We may receive a commission for purchases made through these links.