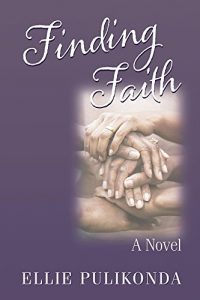 About Finding Faith (A Novel):
"Three women, each caught in circumstances which limit her freedom to be, to act, to live as she chooses. But despair seems their constant companion" …
Each woman reaches out tentatively, only to fall back in anger and fear. Helping each other may be the only hope for each of them but their tentative bond is threatened by their fear.
Trust is an elusive and alien concept to each. Moments, when they are in accord, are rare but they do happen, perhaps giving them a glimmer of the hope and the will they need, to keep trying.
Join Mae, Mira, and Carla as they navigate the tricky path of finding faith.
Buy the ebook:
Buy the Book On Amazon

Author Bio:
"Bestselling Pacific Northwest Author"
Author, Ellie Pulikonda's shocking debut novel, "Split Second" had readers and Amazon reviewers asking for more novels by this prolific writer of psychological thriller mystery. She listened and has now released her second novel titled; "Finding Faith."
Born and raised in the Pacific Northwest, Ellie attended several colleges after high school to obtain her BA in Education, MA in Library Science, and her MS in Adult Education. She is or has been a daughter, wife, mother, widow, partner, single mom, grandmother, and great-grandmother.
She has worked various jobs and in different fields such as a law office, a librarian, newspaper article writing, a welfare office, and finally as the director of a public library in Tipton, IN.
"I write for the pure joy of writing" . . .
"At first, it was diaries, journals, and musings; then I graduated to short newspaper articles, some unpublished but staged mystery/comedy plays, scripts for amateur musical productions and now books.
My hope is that my readers will enjoy my books and also be prodded to think about the actions and motives of my characters, to question their choices and why they made them, and to see the characters with greater insight."
Follow the author on social media:
Learn more about the writer. Visit the Author's Website
Facebook Fan Page
Twitter