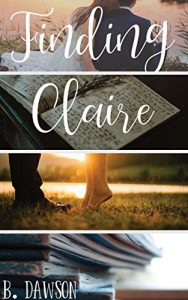 "About Finding Claire:
If you had the chance to read the diaries of your 17 year old mother, could you?
Even if you knew nothing of what they could contain..
The day of his Mothers funeral was one of Mark's hardest days. Still he had plenty of things to look back on thanks to the memorial box where family and friends had left their own memories.
Unfortunately Mark finds himself diving head first into the memories of his 17 year old mother.
A life he wasn't part of…
A life full of secrets he knew nothing about…
A perfect summer romance novel of young love, second chances and love triangles. The story of Jack and Claire will leave you falling in love all over again.
Targeted Age Group: 18+
Written by: Barbra Dawson
Buy the ebook:
Buy the Book On Amazon
Buy the Book On Smashwords

Author Bio:
I am an avid book reader of all genres and have always been a complete and utter book worm. From such a young age I have always had a desire to write and spent the best part of my life dreaming of others reading and enjoying my books. Last year I finally took the plunge and wrote, finished and published my very first book.
This site contains affiliate links to products. We may receive a commission for purchases made through these links.