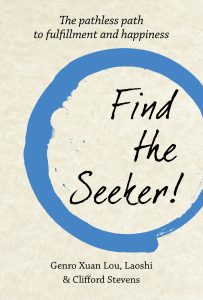 About Find the Seeker!:
Find the Seeker! by Zen Master Genro Xuan Lou, Laoshi and his pupil, Zen teacher Clifford Stevens, takes us on an inner pilgrimage, compassionately picking us up where we are, whether beginners or longstanding seekers. It is based on the wisdom and profound, first-hand experience of a modern-day Master as well as the teachings of enlightened ones throughout the ages. Focusing on the spiritual dimension underlying Existence which all of us share, the book addresses people of all faiths who suffer, are unhappy and seek to lead more fulfilling lives.
"Find the Seeker!" serves as a powerful wake-up call for those who mistakenly believe in their being separate from the Oneness and living in a state of duality, reminding us that the Kingdom of God is really within us. The book is not a wishy-washy, feel-good book offering a quick fix or esoteric porridge or pandering to those who want a spiritual baby rattle to rely on. Immensely uplifting and rewarding, the book serves as a travelling companion and guide, enticing readers with a vision of what we really are – Absolute, eternal and unconditional Being, whole and divine – which can only be directly experienced, It does this by helping us unfold our true nature and reboot our spiritual search so that we can abide in the one Self and renew our limiting, thought-driven and ego-dominated lives. In this way, seekers become finders, and we can enjoy the bliss and lightness of Being that are inherently ours.
Find the Seeker! has garnered extensive praise from spiritual teachers, for example:
"A unique, extraordinary and extremely valuable work." – Ihaleakala Lew Pen
"Disarming and worth experiencing." -John Tarrant
"Refreshing as a clear stream." -Robert Meikyo Rosenbaum
"The book…touches your heart." -Hue Feng
Buy the ebook:
Buy the Book On Amazon

Author Bio:
I, Clifford Stevens, was born in the United States. My career included stints as a teacher, journalist, PR manager and translator. I have studied Qi Gong, Zen and meditation with Genro Xuan Lou, Laoshi for many years. My meditation-imparted experiences and the Dharma transmission from Genro qualified me to be named a teacher of Zen.
The co-author Gert Beirer, who was born in Austria in 1945, studied Zen, meditation, Kung-Fu, Qi Gong and acupuncture in Asia. He was given the name Genro ("Origin of Joy") Xuan Lou, Laoshi (Laoshi = "Spiritual Master") by Zen Master Tetsuo Kiichi Nagaya Roshi. Genro Xuan Lou, Laoshi was named Zen (Chan) Master by the Abbot and Grand Master Kun Kong at the Lingyin Temple (Shakyamuni Buddhism) in Hangzhou, with whom he studied 11 years, by Abbot and Zen Master Shi Chan Ming in Wuhan, Province Hubei, China, and was also named Shifu or "Spiritual Teacher" in 2009 by Shi Xue Feng, Abbot of the Ding Shan Temple in Germany.
Follow the author on social media:
Learn more about the writer. Visit the Author's Website
Facebook Fan Page
Twitter