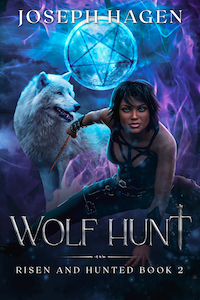 About Wolf Hunt- Risen and Hunted Book 2:
Both a witch and a teen are struggling with the effects of werewolf bites. 17-year-old Alan lost almost everything in MOONRISE(Book 1), but the witches' magic has kept him alive and coping with his were-curse. The witches see hope for Alan as they study the magic used in another witch's taming, but then become distracted when another pack of werewolves arrive hunting Alan. Can witchcraft Alan and the other witch from the were-serum before the next full moon?
Targeted Age Group: 15+
Written by: Joseph Hagen
Buy the ebook:
Buy the Book On Amazon
Buy the Print Book:
Buy the Book On Amazon
Author Bio:
An avid reader from an early age, Joe didn't start writing fiction until later in life. Early on, Joe was able to get autographed, hardbound copies of Stephen King and Anne Rice novels which he cherishes to this day. "Two Word" bedtime stories got his creative energies flowing when each of his children offered a word and from these he created their story for that evening. Then, typing late one night, he looked up to realize the room was dark, except for the lamp beside him. As his imagination engaged, it left no doubt he had more stories to share. When not writing, Joe is digging in his garden, walking his dog or sometimes depending on the weather, he might be fencing (yes, that kind of fencing!) or playing tennis (though it might be time to learn Pickleball).
Follow the author on social media:
Learn more about the writer. Visit the Author's Website
Facebook Fan Page
Twitter
Instagram
This site contains affiliate links to products. We may receive a commission for purchases made through these links.