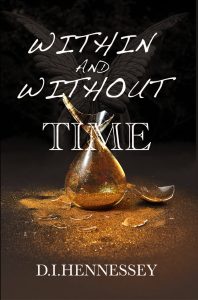 About Within and Without Time:
*An Amazon Bestseller* Christian Religious Fiction
When a sixteen-year-old boy is befriended by a powerful angelic warrior, it begins an adventure that will forever transform his life, rock his town, and trigger events that will ultimately change the world!
His heartwarming, and heart-rending journey will inspire both tears and laughter and will leave your heart rejoicing as Jimmy experiences the most profound truths of God's immense power and immeasurable love.
Targeted Age Group: 16-99
Written by: D. I. Hennessey
Buy the ebook:
Buy the Book On Amazon
Buy the Print Book:
Buy the Book On Amazon
Author Bio:
Dan is an author of Christian fiction who believes in the power of Christ to redeem lives. He has worked in Youth Ministry, Associate Pastor, and Christian teaching roles, in addition to a three-decade career in the Publishing, Technology, and Healthcare industries. He has degrees in Theology/Pastoral Studies and Behavioral Sciences and an MBA in Technology Management. Dan and his wife, Laura are the proud parents of four children and have eight amazing grandchildren. Visit arkharbor.press for more info.
Follow the author on social media:
Learn more about the writer. Visit the Author's Website
This site contains affiliate links to products. We may receive a commission for purchases made through these links.