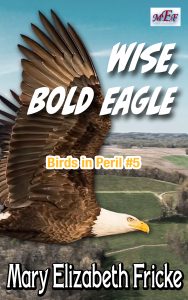 About Wise, Bold Eagle (#5 Birds in Peril Series):
Sylvia Pentherst is the fifth woman to marry into the Hunt-Harvester-Cromwell group. A widow in her mid-fifties, she survived years of hardship caring for her invalid husband and raising her three sons. Her now-seemingly-settled life takes a turn toward unpredictable when she leaves the comfort of managing County Hospital Housekeeping for the chaos of opening and maintaining two novelty shops along with Lisa, Jani, Susie, and Stephanie. Is it really possible to find that second chance at love with Thad Hunt?
Targeted Age Group: 18+
Written by: Mary Elizabeth Fricke
Buy the ebook:
Buy the Book On Amazon

Author Bio:
Mary Elizabeth Fricke has lived her entire life within five miles of the Missouri River. She and her husband of 40 years have lived 38 of those years on a farm that has been consistently owned and operated by his family for five generations. They have two grown sons married to wonderful women and two beautiful grandchildren.
A graduate of the Writer's Institute of America and a member of the Heartland Writers Guild, she has published a number of articles in various forums and magazines. She is also a prolific ghostwriter.
Her stories, based in rural mid-western areas, concern the unique but quickly vanishing way of life on the family farm as well as other mysterious intricacies that evolve life from generation to generation. Romance is her preferred genre.
Follow the author on social media:
Learn more about the writer. Visit the Author's Website
Facebook Fan Page
This site contains affiliate links to products. We may receive a commission for purchases made through these links.