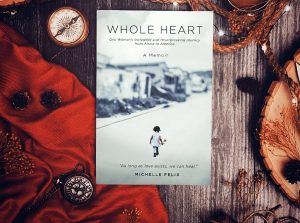 About Whole Heart:
This is an inspiring true story that proves darkness can lead to light, and joy is possible on the other side of pain.
At once heartbreaking and joyously uplifting, "Whole Heart" is an unflinching portrait of one woman's fight for self-discovery, opportunity, and hope.
There is grace and possibility in even the bleakest places-a triumphant journey toward inner happiness.
In this moving memoir, Michelle Felix opens her whole heart and recounts her life, starting from her childhood in Africa to her transitions and current life in America.
During her childhood, Michelle had her world turned upside down, as she was forced to face several family issues that deeply affected her and made her feel stuck in a cycle of pain, regret, and immense grief.
However, even with the hurt that painted her childhood, Michelle is determined to find healing and turn her pain into purpose, even when she sometimes feels weighed down by the complexities of her past.
This memoir offers an inspiring and intimate look into the life of a girl who fought her way through loss, uncertainty, and rejection.
It tells the story of author Michelle Felix's incredible journey of perseverance and redemption.
If you have ever felt alone, worthless, lost, or as though you can't rise from the ashes of the pain of your life, this memoir is for you.
Targeted Age Group: 30
Written by: Michelle Felix
Buy the ebook:
Buy the Book On Amazon
Buy the Book On Barnes & Noble/Nook
Buy the Book On Apple Books
Buy the Book On Kobo
Buy the Print Book:
Buy the Book On Amazon
Buy the Book On Barnes & Noble/Nook
Author Bio:
Michelle Felix was born and raised in South Africa. She moved to The United States in search of a better life. She works as a human service professional, life coach, and mental health advocate. She lives in Hawaii, and "Whole Heart" is her first book.
Follow the author on social media:
Learn more about the writer. Visit the Author's Website
Facebook Fan Page
Twitter
LinkedIn
YouTube
This site contains affiliate links to products. We may receive a commission for purchases made through these links.