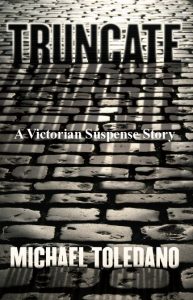 About Truncate:
Timothy Brompton is the proprietor of a thriving pharmaceutical firm, Thames Pharmaceuticals, in the age of growing brand name companies. He has inherited the firm after his father's untimely death and has effectively managed it to one of the major players in the growing pharmaceutical industry in England. Unknown to him, his company's success has interfered with the expansion of a sinister underground syndicate which deals exclusively in opium and its derivatives– Opium at the turn of the twentieth century was not restricted by law. This clandestine consortium intends to expand their operations into legitimate apothecaries throughout England. Their intent is to further capitalize on the addictive properties of the frequently prescribed and unregulated drug used for treating a variety of maladies from depression to physical pain relief.
When an agreement between Thames Pharmaceuticals and the influential Tinsworthy Apothecary in Bristol is imminent, this anonymous group decides to take action and eliminate Mr. Brompton as they have others who effectively hinder their plans for expansion.
Timothy Brompton is thrust into one life threatening predicament after another starting with a mysterious package found by his front door containing an inexplicable mantel clock and a cryptic note bearing word "truncate". Little does he suspect that he is being targeted with by the opium syndicate's enforcer who has a penchant for teasing his victims before dispatching them.
As Timothy Brompton painfully pieces together the puzzle, he experiences betrayal, romance, kidnapping, new friendships, and murder until finally cornering his nemesis.
Targeted Age Group: Adult
Written by: Michael Toledano
Buy the ebook:
Buy the Book On Amazon

Buy the Print Book:
Buy the Book On Amazon
Author Bio:
The Victorian period has always held fascination for Michael Toledano. A computer programmer/analyst by profession, Mr. Toledano's avid interest in Victorian England was the perfect vehicle to launch his pursuit of being a published writer. After years of research, he has penned a thrilling Victorian suspense novel, Truncate.
Mike's aspiration to write began in his college days. Now later in his life he fulfills this dream by publishing a novel having the suspense, mystery, romance, and betrayal in a genre he loves. An avid fan of the classic novels and films of this time period, Truncate is the culmination of years of gleaning the stirring aspects of the Victorian mystery, and creating a unique tale combining these elements.
Mike has been busy over the last several years honing the skills of the writer's trade through on-line correspondence courses, writer's workshops, and participation in writer's groups. Each step instrumental and in combination with extensive research produced an accurate portrayal of the characters, events, and backdrop of the plot.
The result is a fast pace odyssey. The hapless protagonist, Timothy Brompton, is caught up in a maelstrom. He is forced to reckon with an elusive nemesis that he must identify and remove before his own life is forfeit. Strewn along the way he experiences treachery, romance, kidnapping, and murder until finally cornering his tormentor.
Follow the author on social media:
Learn more about the writer. Visit the Author's Website
YouTube
This site contains affiliate links to products. We may receive a commission for purchases made through these links.