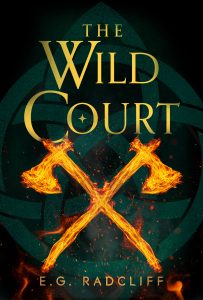 About The Wild Court:
What perils await on the other side of the veil?
In the seventh year of Áed's reign, night descends on the autumn festival. But a time of revelry turns into one of fiery destruction—as fae pour across the veil and the Gut becomes a battlefield in an otherworldly war.
Determined to protect his kingdom and the people he loves, Áed finds himself catapulted into a realm as unfamiliar as it is dangerous, where magic is king and wild courts vie for supremacy.
While the faerie Queen's missing consort holds the key to life and death, tenuous alliances raise questions about Áed's connection to the mysterious Bone court. His survival hinges on cunning as much as illusion.
On a mission like no other, only one thing is certain: no one will survive unscathed.
Targeted Age Group: YA-Adult
Written by: E.G. Radcliff
Buy the ebook:
Buy the Book On Amazon
Buy the Print Book:
Buy the Book On Amazon
Author Bio:
E.G. Radcliff is a part-time pooka and native of the Unseelie Court. She collects acorns, glass beads, and pretty rocks, and the crows outside her house know her as She Who Has Bread.
Her fantasy novels are crafted in the dead of night after offering sacrifices of almonds and red wine to the writing-block deities.
You can reach her by scrying bowl, carrier pigeon, or @egradcliff on social media.
Follow the author on social media:
Learn more about the writer. Visit the Author's Website
Facebook Fan Page
Twitter
Instagram
LinkedIn
This site contains affiliate links to products. We may receive a commission for purchases made through these links.