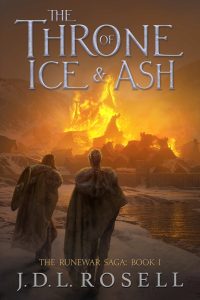 About The Throne of Ice & Ash (The Runewar Saga: Book 1):
Thrones will burn. Crowns will shatter. Kings and queens will rise and fall…
"The best in classic epic fantasy." – Marie, Amazon reviewer.
Start reading the series for $0.99 — this week only!
Targeted Age Group: Adult
Written by: J.D.L. Rosell
Buy the ebook:
Buy the Book On Amazon
Link to Series

Buy the Audio Book:
Buy the Book On Amazon
Buy the Book On Audible
Buy the Print Book:
Buy the Book On Amazon
Author Bio:
J.D.L. Rosell is the bestselling author of Legend of Tal, Ranger of the Titan Wilds, The Runewar Saga, The Famine Cycle, and Godslayer Rising. He has earned an MA in creative writing and has previously written as a ghostwriter.
Always drawn to the outdoors, he ventures out into nature whenever he can to indulge in his hobbies of hiking and photography. Most of the time, he can be found curled up with a delightful book at home with his wife and two cats, Zelda and Abenthy.
To check out his writing for free, you can pick up a series starter story bundle at www.jdlrosell.com.
Follow the author on social media:
Learn more about the writer. Visit the Author's Website
Facebook Fan Page
Instagram
This site contains affiliate links to products. We may receive a commission for purchases made through these links.