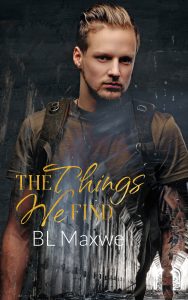 About The Things We Find:
Some things are better left alone
Dane Jones works from home with only his three dogs for company. When he stumbles onto a social media page about urban exploring, he's curious about different sites around Sacramento that seem like they'd be interesting to investigate. He starts chatting with Griff Warren, and after a few conversations he's even more excited to go.
Griff Warren is also curious about urban exploring, but he has very little interest in experiencing something paranormal. When the guy he's been chatting with in the online group is so enthusiastic to go, it's contagious. They plan to go to a warehouse and while there, experience something they can't explain.
Dane and Griff were looking for an adventure, but they find more than they bargained for at a deserted farmhouse on the river. When Dane finds an old toy discarded in one of the rooms, both of them are thrown into a world neither understands. Full of cursed objects, strange markings, and powers, neither knows how to handle. Lucky for them, Griff's Friend knows exactly who can help.
Targeted Age Group: 18-65
Written by: BL Maxwell
Buy the ebook:
Buy the Book On Amazon

Buy the Print Book:
Buy the Book On Amazon
Author Bio:
BL Maxwell grew up in a small town listening to her grandfather spin tales about his childhood. Later she became an avid reader and after a certain vampire series she became obsessed with fanfiction. She soon discovered Slash fanfiction and later discovered the MM genre and was hooked.
Many years later, she decided to take the plunge and write down some of the stories that seem to run through her head late at night when she's trying to sleep.
Follow the author on social media:
Learn more about the writer. Visit the Author's Website
Facebook Fan Page
Twitter
Instagram
This site contains affiliate links to products. We may receive a commission for purchases made through these links.