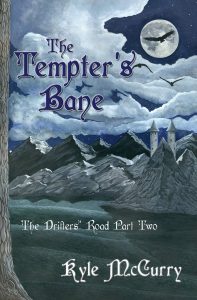 About The Tempter's Bane (The Drifters' Road Part Two):
The Tempter's Bane is the second book to The Drifters' Road fantasy series, continuing after the events of The Fleeing Company. Though the goblin chief has been defeated, his master, Vyroun, will soon wage war upon the north. To make matters worse, Adroegen falls over a cliff, while Caitren is taken captive and will be brought before Vyroun himself.
The rest of the company decides to split up in hope of saving both Adroegen and Caitren. Edelbir and Kattalin choose to find Adroegen, and then search for a hidden dwarven kingdom that Adroegen hoped would help fight Vyroun's army. Gleowan and Vaenn search for Caitren in hope of saving her from certain torment and death.
Each member of the company is afraid as they enter into lands unknown to them, unsure of where their friends are or if they even still live, and in despair over the coming assault from Vyroun's forces.
Targeted Age Group: 12-70
Written by: Kyle McCurry
Buy the ebook:
Buy the Book On Amazon
Buy the Book On Barnes & Noble/Nook
Buy the Book On Kobo
Buy the Print Book:
Buy the Book On Amazon
Buy the Book On Barnes & Noble/Nook
Author Bio:
Kyle Andrew McCurry is the author of The Fleeing Company and The Tempter's Bane, the first two books of The Drifters' Road fantasy book series. He was born and raised in southeast Michigan. Kyle is one with a hobby for storytelling and reading literature from the past, which led to him becoming an author. Among his favorite writers are J.R.R. Tolkien, Snorri Sturluson, Hans Christian Andersen, and George MacDonald, and among his books are European myths, fairytales, and sagas from long ago. When not reading or writing, Kyle spends his time watching movies, making homemade fudge that was passed down from his grandfather, and following the Detroit Red Wings, his favorite sports team.
Follow the author on social media:
Learn more about the writer. Visit the Author's Website
Facebook Fan Page
Twitter
This site contains affiliate links to products. We may receive a commission for purchases made through these links.