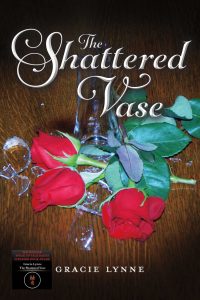 About The Shattered Vase:
When Suzie marries Joe, she thinks they will be together forever. But in an instant, her dream shatters when Joe leaves Suzie, and their three children, for another woman. This opens the door for evil entities of the demonic realm to invade Suzie's heart and mind. However, in a war, there are always two sides, and God is intent on winning the battle for Suzie's life. The Shattered Vase is a spiritual warfare novel unlike any other. It will capture your attention and hold you captive until the very end.
Targeted Age Group: adult
Written by: Gracie Lynne
Buy the ebook:
Buy the Book On Amazon

Buy the Print Book:
Buy the Book On Amazon
Author Bio:
Gracie was not a born writer, but rather a writer born out of adversity.
Gracie obtained two college degrees but never thought of writing as a possibility for her future.
After her divorce from the father of her children, she became involved in a ministry at her church. Soon she was writing, producing, directing, and acting in plays for this ministry.
It was during this time that God put a calling on Gracie's life to become a Christian author. Gracie started writing the first draft of The Shattered Vase in 2000.
As a single mother, she worked as a registered nurse in the home health arena and moonlighted as an aspiring author.
She finally released The Shattered Vase in 2018. Gracie released the second edition in 2022.
Besides being an award-winning author, Gracie is also a landlord, an actress, a Bible Study leader, and a volunteer.
She has raised three amazing children, and she is now overjoyed to be a grandmother. The Shattered Vase has been nominated for Best Christian Fiction in The Christian Literary awards and won the Firebird award.
Follow the author on social media:
Learn more about the writer. Visit the Author's Website
Twitter
YouTube
This site contains affiliate links to products. We may receive a commission for purchases made through these links.