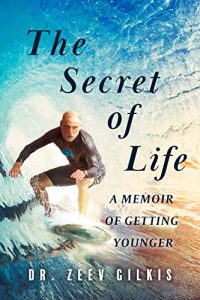 About The Secret of Life: A Memoir Of Getting Younger:
The story of a cancer survivor, who began competing in triathlon in his sixties, showing that everybody can realize his dreams and becoming ageless!
Targeted Age Group: 18-100
Written by: Zeev Gilkis
Buy the ebook:
Buy the Book On Amazon
Buy the Audio Book:
Buy the Book On Amazon
Buy the Book On Audible
Buy the Print Book:
Buy the Book On Amazon
Author Bio:
Zeev Gilkis, PhD, was the founder of AMIT, an institute for bio-medical development at Technion. For more than eight years he was the CEO of the institute and led the establishment of five start-ups in various fields of medicine, serving as the chairman of the Board of Directors of all five.
He earned his PhD with a thesis on Artificial Intelligence, and in addition, holds graduate degrees in mathematics, statistics and computer.
Gilkis served in the mythological 8200 SIGINT Unit of Israeli Intelligence for 17 years, and was awarded the highest "Award for Israeli National Security" by the President of Israel.
He is the author of the books: Unlock Bliss, a memoir of getting happier, The Secret of Life, a memoir of getting younger, Running Back in Time & The Beautiful Addiction.
This site contains affiliate links to products. We may receive a commission for purchases made through these links.