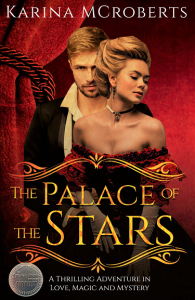 About The Palace of the Stars:
A GENEROUS SERVING OF GORGEOUS ESCAPISM
Badly beaten rookie cop Mike Harker emerges from a coma with no history, no job, and no self-respect. While convalescing with a kooky bibliophile, a time portal opens in her bookstore and Mike is hurled into the past.
Struggling to regain his mental health in the face of intolerant, superstitious attitudes, he falls for beguiling stage magician, Mae Belle, who begs him to solve a series of gruesome murders.
Mike must team with her onstage and possibly offstage partner, the mysterious Chan Li, to trap the killer.
Meanwhile, the portal is closing…
Richly realised and highly evocative. Splendid wordcraft explores the redemptive value of love, friendship, and the possibilities of human consciousness ̶ nonetheless, The Palace of the Stars is a thrilling narrative of romance, magic, and mystery!
Finalist in the 2021 Wishing Shelf Book Award
Check out the gorgeous video trailer: https://youtu.be/TDHbBrrgFCM
Targeted Age Group: 30 -90
Written by: Karina McRoberts
Buy the ebook:
Buy the Book On Amazon
Buy the Book On Barnes & Noble/Nook
Buy the Book On Kobo
Buy the Print Book:
Buy the Book On Amazon
Author Bio:
Karina McRoberts is a writer, musician, visual artist, and theatre producer. An avid conservation scientist, Karina has worked to prevent wildlife disease, lead poisoning in waterfowl, and degredation of habitat. She is a great believer in the power of stories. Her latest projects include contibution to literature in aid of Ukrainian women, and help for older writers – entitled 'A Novel at Ninety'. Karina writes to enchant and entertain – journeys in fiction whereby you can explore the heights of your mind and the very depths of your soul!
Follow the author on social media:
Learn more about the writer. Visit the Author's Website
Facebook Fan Page
YouTube
This site contains affiliate links to products. We may receive a commission for purchases made through these links.