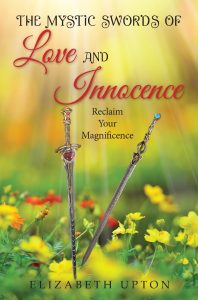 About The Mystic Swords Of Love And Innocence: Reclaim Your Magnificence:
"The Mystic Swords of Love and Innocence Awarded 5-Stars From Reader's Favorite."
The Mystic Swords of Love and Innocence: Reclaim Your Magnificence by Elizabeth Upton is a wonderful, honest, and inspirational book about love and innocence. In it, with great candor, Elizabeth Upton dismisses the idea that once we turn into adults, we lose our innocence or our ability to love in the purest form."
Today's busy, noisy, and the fast-paced world can be full of challenges that stress us out and bog us down, sometimes to the point of leading us down a path of despair, desolation, and depression. The Mystic Swords of Love and Innocence: Reclaim Your Magnificence is the complete guide to discovering how to slow down, reset the mind, and achieve the love, innocence, peace of mind, and resilience we once enjoyed as children.
Based upon her years as a contemplative nun, a probation officer, and a counselor, author Elizabeth Upton shows us how to achieve clarity in order to live the magnificent life we were meant to live right now.
(E-book is on pre-order sale for $1.99 and releases/delivers on Feb. 10th 2023)
Targeted Age Group: Adults 18 to 100
Written by: Elizabeth Upton
Buy the ebook:
Buy the Book On Amazon

Author Bio:
Best-Selling Author Elizabeth Upton is an American Author and an influential writer of gripping mystery fiction and inspiring nonfiction memoirs, and inspirational self-help books.
Her best-selling books, "Secrets of a Nun: My Story" and "The Silver Woman of Fire" helped set her firmly on the world's literary map. With many novels to her credit, she released two new books, one in June 2022 titled 'Lovers' Secrets and Revenge' and Jan. 2023 a nonfiction titled 'The Mystic Swords of Love and Innocence.'
Elizabeth's favorite fiction she enjoyed writing was, 'The Shaman and The Mafia,' as she shares, "The creation of this story has been an exciting journey. If possible, I would love to meet all of the characters in this book in real life." Elizabeth's books and novels are available on Amazon online, Barnes & Noble, and featured on fine literary book sites.
Elizabeth was born and raised in Los Angeles, CA., until the age of sixteen, when she entered a New York State Convent and became a nun for twenty years, but she yearned for a more authentic spiritual life. Elizabeth left the convent and chose to attend and receive her B.A. from Syracuse University. Moving back to her native state of California, she attended and received her M.A. from Chapman University in psychology. The author began working for over thirty years in family counseling as a social worker and probation officer working with troubled teens and abused children. She is a speaker, spiritual mentor, and advisor.
Elizabeth is happily married and enjoys writing books for her reader fans around the world. When the author is not writing, she works out with a personal trainer to stay fit and healthy; she loves spending time on long walks on the beach with her husband and dog. Her favorite colors are blue, green, and gold. She enjoys reading good books by some of her favorite authors like Geraldine Brooks, Hanh, Jerry Archer, Joseph Murphy, and Michael Connelly.
Elizabeth and her husband reside in Santa Barbara, California.
Follow the author on social media:
Learn more about the writer. Visit the Author's Website
Facebook Fan Page
Twitter
LinkedIn
This site contains affiliate links to products. We may receive a commission for purchases made through these links.