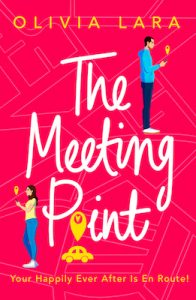 About The Meeting Point:
What if the rideshare driver who finds your cheating boyfriend's phone holds the directions to true love?
'Who are you and why do you have my boyfriend's phone?'
'He left it in my car. You must be the blonde in the red dress? I'm the Lift driver who dropped you two off earlier.'
And with these words, the life of the brunette and t-shirt wearing Maya Maas is turned upside down. Having planned to surprise her boyfriend, she finds herself single and stranded in an unknown city on her birthday. So when the mystery driver rescues Maya with the suggestion that she cheers herself up at a nearby beach town, she jumps at the chance to get things back on track. She wasn't expecting a personalised itinerary or the easy companionship that comes from opening up to a stranger via text, let alone the possibility it might grow into something more…
Come on this 5* journey to love, laughter and back again, perfect for fans of Beach Read, Josie Silver and You've Got Mail.
Targeted Age Group: 18+ (clean romance)
Written by: Olivia Lara
Buy the ebook:
Buy the Book On Amazon
Buy the Book On Barnes & Noble/Nook
Buy the Book On Apple Books
Buy the Book On Kobo
Author Bio:
Olivia Lara is a Barnes&Noble, Apple, Kobo and Amazon Top 100 Bestseller and a finalist in the Romantic Novel Awards 2021. She is the author of the love stories: Someday in Paris and The Meeting Point, which have appeared on several 'Most Anticipated' and 'Best' lists like CNN, The Nerd Daily etc. A former journalist, Olivia now works in marketing in Northern California where she lives with her husband, daughter and an increasing number of pets.
Follow the author on social media:
Learn more about the writer. Visit the Author's Website
This site contains affiliate links to products. We may receive a commission for purchases made through these links.