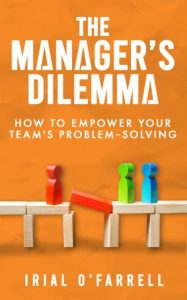 About The Manager's Dilemma:
Managers tend to be great at problem-solving but not so good at developing their team, to sort out their own issues. The Manager's Dilemma examines the dilemma that all managers face and the choice they must make.
The Manager's Dilemma makes a strong case for taking the time and effort to invest in developing the team's problem-solving skills. By following Lisa and her team, you will understand the different potential starting points, for different people, examine your own problem-solving mindset and consider how to best introduce this approach to your own team.
Targeted Age Group: Adults
Written by: Irial O'Farrell
Buy the ebook:
Buy the Book On Amazon
Buy the Print Book:
Buy the Book On Amazon
Author Bio:
Hi there, I'm Irial and I'm endlessly curious about how the human shows up in the workplace. I initially started in Financial Services and very quickly moved into management. I then took a detour into Learning and Development, which then led me into Executive Coaching.
I set up Evolution Consulting in 2006, to help companies make the most of their abilities and maximise their performance. I became heavily involved in leadership development, change management and organisation design. I am an accredited master of change management, the first in Ireland.
I also love to write. In 2011, I took the plunge and wrote my first book, Values – Not Just for the Office Wall Plaque. When Covid hit in 2020, I decided it was time for the second book, SMART Objective Setting for Managers. Since the writing bug has well and truly taken hold of me, 2021 sees the release of my third book, The Manager's Dilemma.
Follow the author on social media:
Learn more about the writer. Visit the Author's Website
Facebook Fan Page
Twitter
Instagram
LinkedIn
YouTube
This site contains affiliate links to products. We may receive a commission for purchases made through these links.